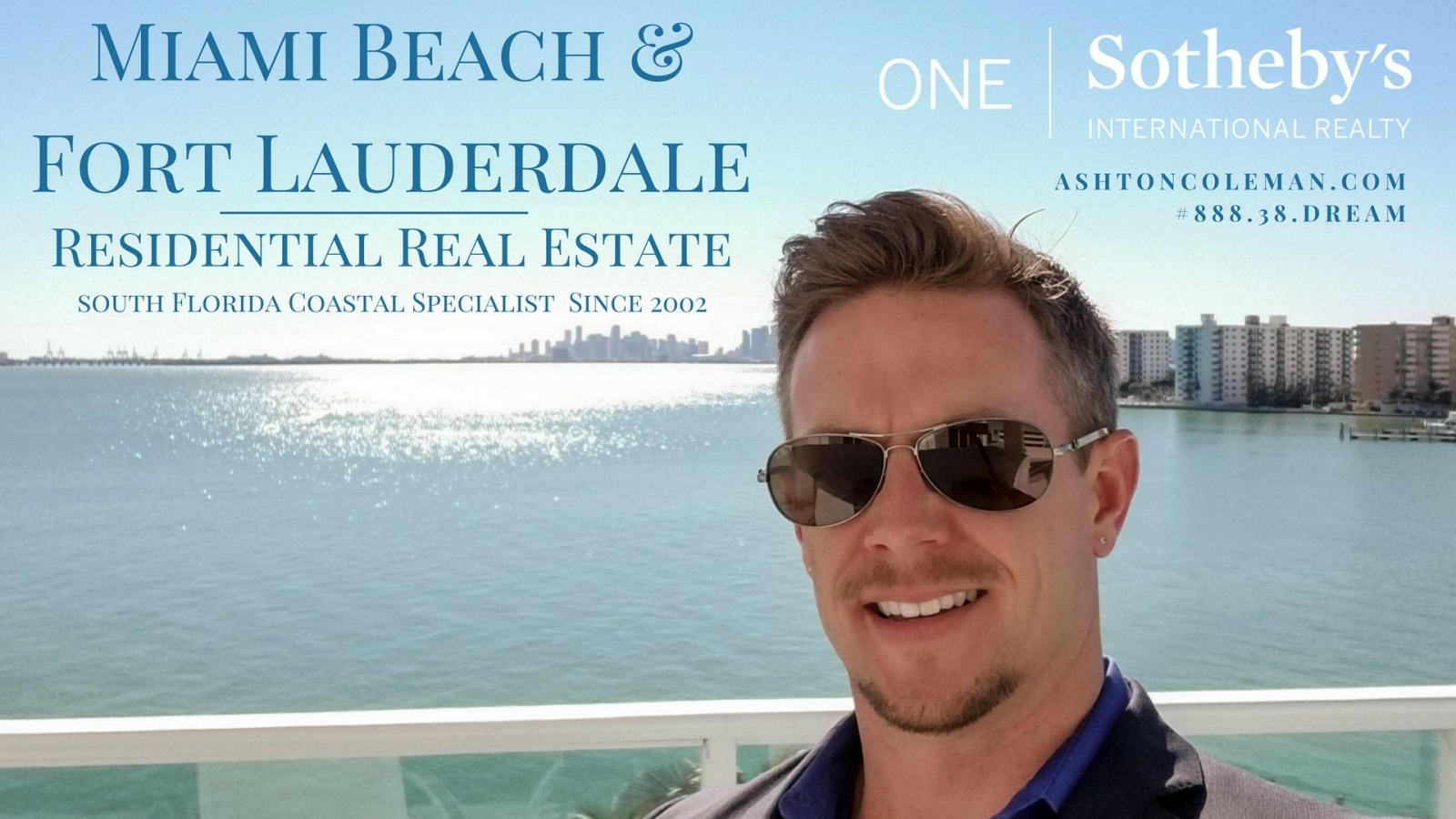 Connect with me LinkedIn | Facebook | Instagram | Twitter | YouTube
Ashton Coleman, P.A. & ONE Sotheby's International Realty

Ashton is a technology & social media savvy professional who understands the industry providing white-glove service with a wealth of experience, an impeccable reputation and a keen ability to efficiently handle all facets of real estate. His success is attributed to an unparalleled work ethic with years of experience including top-tier professional services where the 'art of the deal' is mastered in contract negotiations, deal-making intricacies and the end, results-driven real estate.
Ashton's territory has grown significantly since 2002, marketing & selling extraordinary South Florida coastal real estate from Miami Beach to Lighthouse Point. A Certified Luxury Homes Marketing Specialist (Million Dollar Guild), with a multitude of other residential certifications, Ashton provides both exceptional service and unique selling techniques.
Ashton is a native Floridian, previously residing in South Beach, North Bay Village, and Coral Gables before buying a unique mid-century home in (CRCCE) Fort Lauderdale. Ashton attended Florida State University (FSU) with a Bachelor of Science in Exercise Science and Nutrition. Ashton believes in honesty, integrity, and having fun in the business. He values building long-term relationships with his clients and prides himself on delivering "a desirably different real estate experience."
He currently has his office located on Las Olas and in South Beach while living in Fort Lauderdale with his wife, two children, and four dogs.


Sotheby's International Realty prides itself on the commitment to "Artfully unite extraordinary homes with extraordinary lives" and I see every client relationship as an opportunity to make the real estate experience extraordinary. I wake each morning with a great passion, ready to learn and grow from each new day's experience – connecting interesting and incredible people with perfectly curated properties that they get to call home. The best part is, I come to work every day to do something I absolutely love. I love real estate as an investment vehicle, the customer experience, and especially showcasing this amazing South Florida destination. I truly enjoy property matchmaking & the art of the deal for both buyers and sellers.
I specialize in residential real estate including high-end oceanfront condos, stately homes, and land for development. I focus on the results that matter most to my clients demonstrating upfront accuracy, honesty, an obsessive attention to detail, exceptional client services, tech-savvy style, and simply making your real estate goals my own. For buyers, it's finding the perfect home, and getting a great deal while matching their lifestyle needs. For sellers, it's the shortest time on the market and least percentage of change between the list to sale price ratios. I'm an experienced & strategic negotiator who will ultimately achieve the best possible deal for my clients. I'm heavily involved with analytics and forecasting trends reporting my research on this blog and social media channels.
With that being said, I've excelled in business longevity & growth since 2002. I'm able to leverage an unparalleled level of marketing, service and reach for my clients, and I am excited to show you what those added values are. I'm easy to reach so call today or simply contact me here for a prompt response, in-depth consultation, and a customized presentation. #954.998.3098 or toll-free #888.38.DREAM.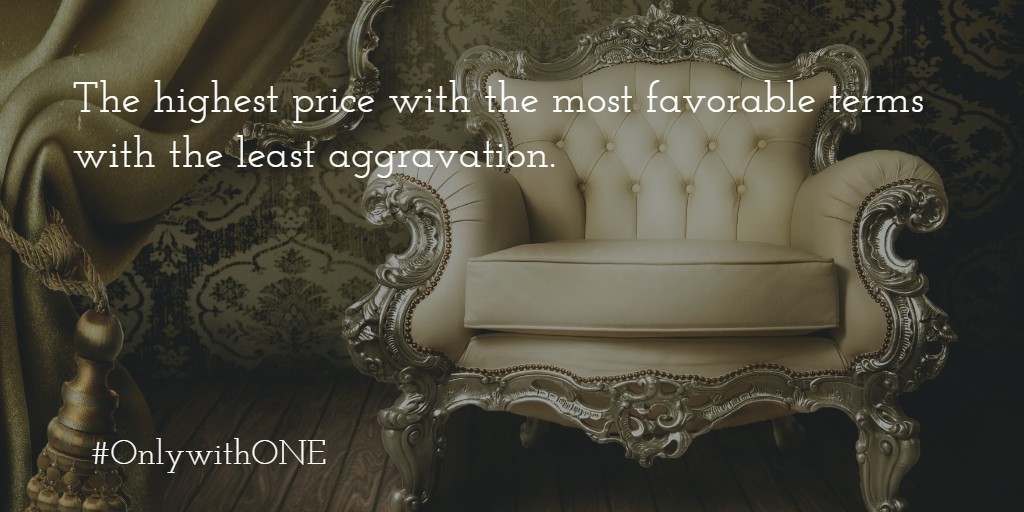 Buying in South Florida with Ashton Coleman, P.A.
Buying a house is like driving in an unfamiliar city during rush hour – let me be your Waze to navigate South Florida with expert guidance, experience, knowledge, and fun down to the finite details.
Beyond the traditional home searches, I have a proven record of winning in all things real estate for my personal clients. Having gone through trials & errors since 2002, I have the most valuable asset: Experience.
Read more here.
Selling in South Florida with Ashton Coleman, P.A.
Your home deserves more than a good agent. It needs a great marketing plan. Rather than placing the property on the MLS & Zillow then praying, I continue the process of technology-driven lifestyle marketing opening the floodgates of exposure with robust Social Media while using cutting-edge techniques from video presentations to a highly-targeted demographic looking for a property such as yours. Have you seen the number of buyer's watching for homes such as yours? If not, click here!
Each home has a story to sell and I sell it well. With each new property, I look to clearly demonstrate the unique story behind the home, told with beautiful imagery, video, and description. Any professional representing you and your home needs to be an amazing storyteller.
Read more here.
Fort Lauderdale Real Estate & Research
Miami Real Estate. Driven by Results. Powered by Integrity.
Global Marketing. Local Prestige.
Sales, Listings, & Reviews.
Experience and Certifications.
South Florida Brokers Lic. #BK3065746 (Since 2002)
e-Pro Certified
Million Dollar Guild Member
Institute of Luxury Home Marketing (ILHM)
Resort & Second-Home Property Specialist (RSPS)
Certified Negotiation Expert (CNE)
Accredited Buyer Representative (ABR)
Seller Representation Specialist (SRS)
Transnational Referral Certified (TRC)
Member of Miami Association of Realtors (MAR)
Member of Greater Fort Lauderdale Realtors (GFLR)
Member of Florida Association of Realtors (FAR Lic. BK3065746)
Member of National Association of Realtors (NAR)
Member of Master Broker Forum Miami (2016)
Residential Specialties
Land for Development
Estates & Waterfront Homes
Penthouse & Trophy Properties
Oceanfront & Waterfront Condominiums
Unique & Historic Properties (1930's + Mid-Century Architecture)
Who You Are
You are a client – not a customer:
Clients are under the protection of another.
Customers purchase a commodity or service.
Knowledge is protection. As a client, you can expect confidentiality but also risk assessment with fully accurate information that you will understand, implement, and use to build your net worth. Questions or comments regarding Fort Lauderdale real estate? We're easy to reach whether morning or night so contact us now and see, we're here for you! #954.998.3098 or toll-free at #888.38.DREAM
My Many Success Stories from Exclusive SOLD Listings

More Info
The Sotheby's International Realty network currently has more than 19,000 affiliated independent sales associates located in approximately 845 offices in 63 countries and territories worldwide. Sotheby's International Realty listings are marketed on the SothebysRealty.com global website. In addition to the referral opportunities and widened exposure generated from this source, the firm's brokers and clients benefit from an association with the Sotheby's auction house and worldwide Sotheby's International Realty marketing programs. Each office is independently owned and operated.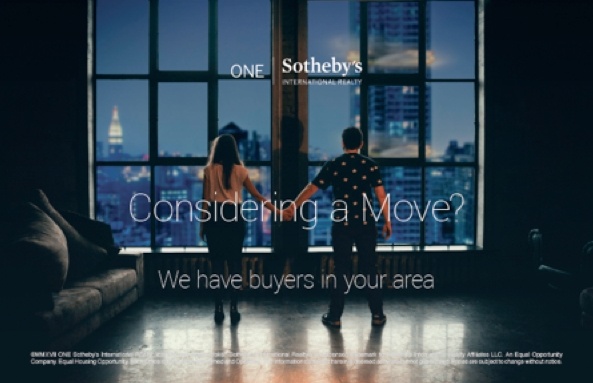 More Info